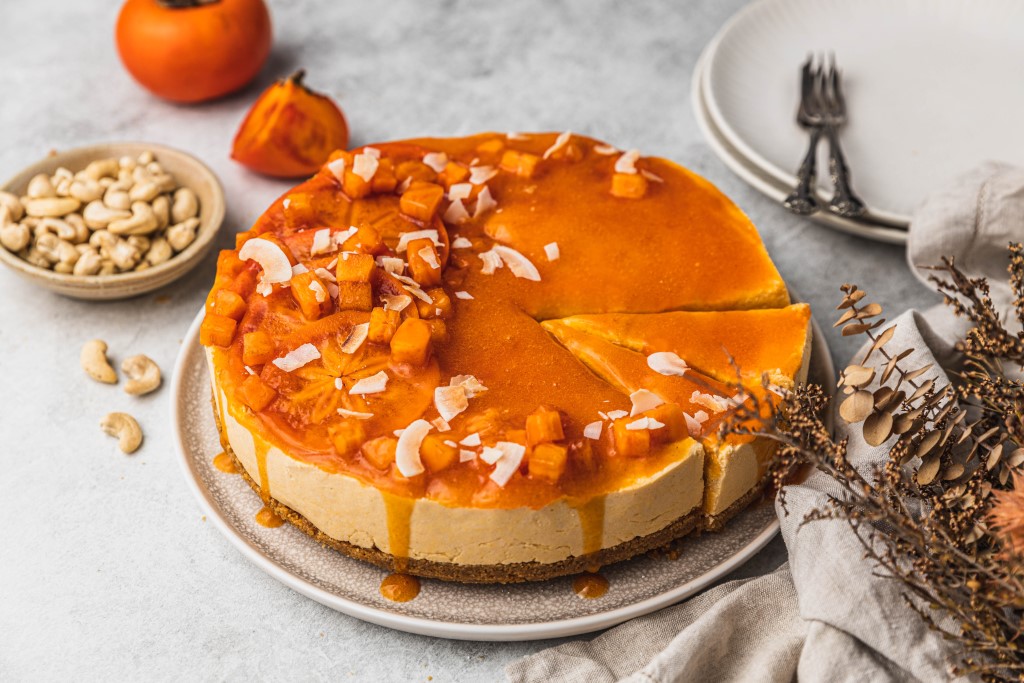 Ingredients:
(Gluten Free, Dairy Free, Vegan)
Filling
• 4 cups (450g) raw cashews
• 1⁄2 cup water
• 1 cup very ripe persimmon flesh (Original or Sweet)
• 1⁄3 cup fresh lemon juice
• 2⁄3 cup (150g) coconut oil
Base
• 2 packets (310g) Leda gluten free gingernut biscuits
• 4 tbsp (55g) vegan butter, melted
• 2 tbsp (30g) coconut oil, melted
Topping
• 1 very ripe and soft Original persimmon (or 2 ripe Sweet persimmons), pureed
• 1-2 firm and crunchy Sweet persimmons, sliced
Method:
• Add cashews to a medium bowl and cover with water by a few centimetres. Cover and allow to soak in the refrigerator overnight. Once soaked, remove cashews from the fridge then rinse and drain.
• Make the base – Grease and line the base and sides of a 23cm springform pan. Place the gingernut biscuits in the bowl of a food processor and process until finely crushed. Add the butter and coconut oil and process until well combined. Transfer mixture to the prepared pan and use a spoon to press the mixture firmly over the base. Place in the fridge to chill while you prepare the filling.
• Make the filling – Add all filling ingredients to a food processor or large blender. Blitz for 2-3 minutes or until smooth and creamy. Pour over the prepared gingernut base and smooth the top with a spatula. Cover and freeze for at least 4 hours to set.
• When you're ready to eat the cheesecake, take it out of the freezer and remove from the springform tin. Allow the cheesecake to thaw for 45 minutes to 1 hour before serving*. Pour over the persimmon puree and garnish with slices of firm Sweet persimmon.
*Once thawed, the cheesecake should be stored in the refrigerator until serving.
Recipe credit: Recipe from Kate Guthrey (persimmon grower)