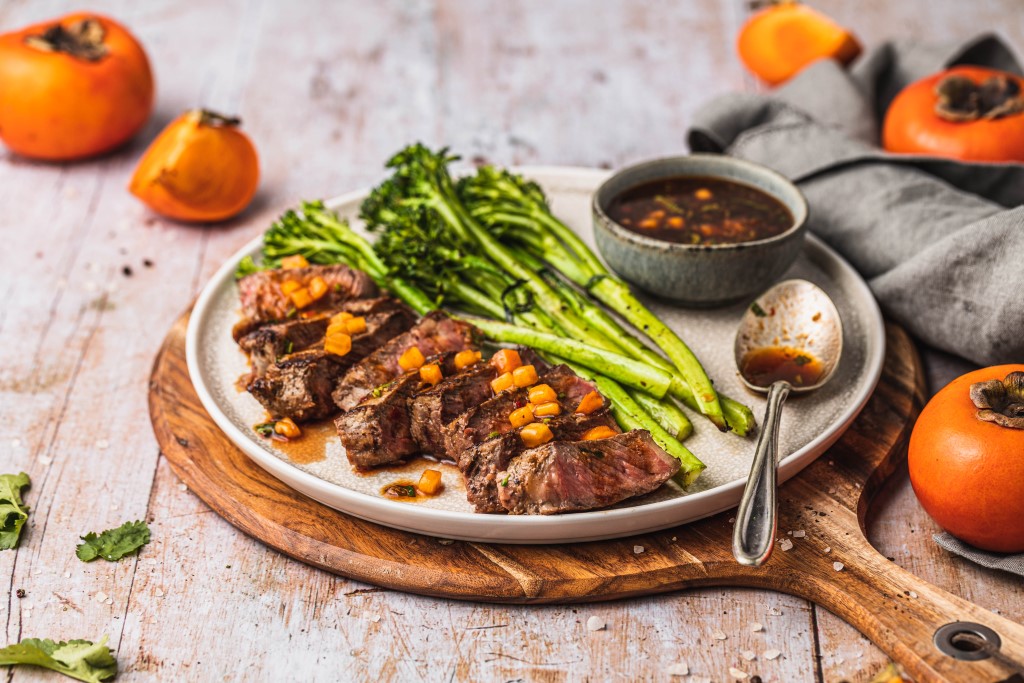 Ingredients:
Persimmon & Ginger Dressing
• 2 tbsp gluten free soy sauce
• 1 tbsp black vinegar
• 1 tbsp rice wine vinegar
• Flesh of 1 very ripe Sweet or 1⁄2 a ripe Original persimmon
• 1 tsp fish sauce
• 1 tbsp grated fresh ginger
• 1 stalk of coriander, finely chopped (leaves, stems and root)
• 1 chilli, finely chopped
• Optional: 1 tsp brown sugar
Steak
• 4 beef porterhouse steaks
• 1 tbsp olive oil
• 1 tsp sesame oil
• Salt and Pepper, to taste
• 2 bunches baby broccoli, halved lengthways
• Diced fresh or dried persimmon, for garnish
Method:
• Remove steaks from the refrigerator to allow them to come closer to room temperature for 30 minutes to 1 hour before cooking.
• Make the dressing – Whisk all dressing ingredients together in a small bowl. Taste and add brown sugar if needed (you may not need the additional sweetness depending on the variety of persimmon used). Set aside.
• Combine olive oil and sesame oil in a small bowl then coat steaks and season generously with salt and pepper.
• Heat a large frying pan or grill over high heat. Add steaks and cook for 3-4 mins each side for medium rare. Transfer to a plate and cover with foil. Set aside for 5 mins to rest.
• Meanwhile, add a drizzle of olive oil to the same pan and reduce heat to medium. Add the baby broccoli and cook, turning occasionally for 2-3 mins or until bright green and just tender.
• Serve steaks with baby broccoli, persimmon and ginger dressing, and diced fresh or dried persimmon.
Recipe credit: Recipe from Kate Guthrey (persimmon grower)