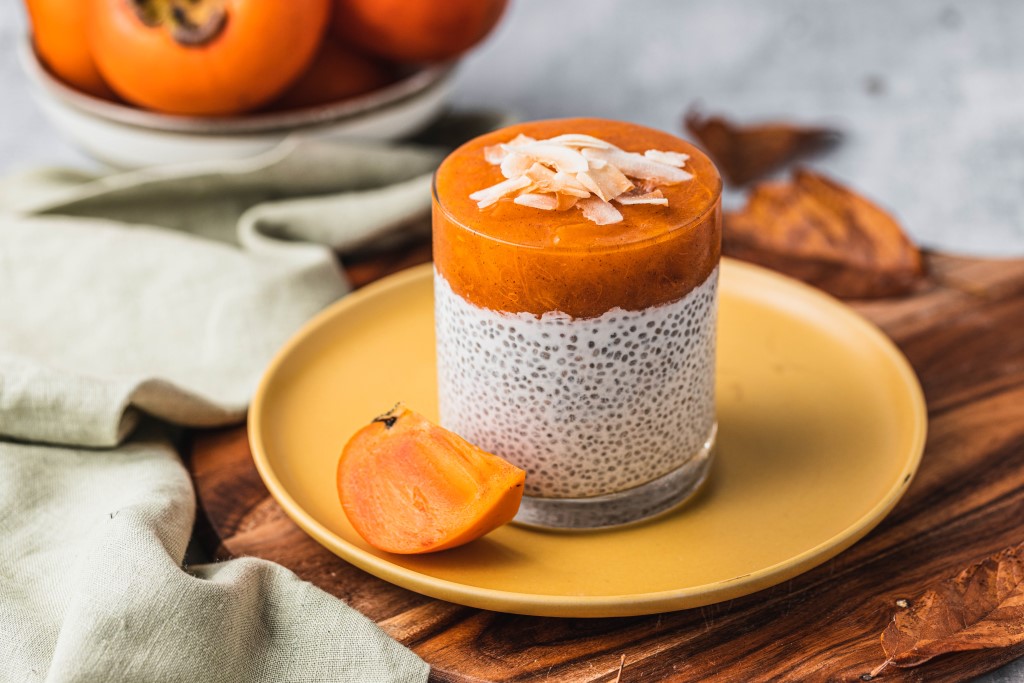 Ingredients:
• 4 tbsp black chia seeds
• 1 cup coconut milk*
• 1 teaspoon honey or other sweetener (e.g. agave nectar, maple syrup)
• 1 large, ripe Original persimmon (or 2 very ripe and soft Sweet persimmons)
• 1 tsp lemon juice
• 1⁄4 tsp cinnamon
• Toasted coconut flakes, to serve
Method:
• Whisk together chia seeds, coconut milk and honey in a medium bowl. Transfer to 2 large glasses and refrigerate for at least 4 hours or overnight.
• Once chia pudding is set, cut the persimmons in half from top to bottom then use a spoon to scoop out the flesh, discarding the skin.
• Add persimmon pulp to a small bowl along with the lemon juice and cinnamon. Stir to combine, crushing any bigger pieces of persimmon.
• Divide persimmon mixture between the two chia pudding glasses and sprinkle with toasted coconut flakes.
Notes:
*use canned coconut milk (full fat or light) for a richer and creamier texture. Carton coconut milk (or any other plant-based milk) may also be used. If using carton coconut milk or plant milks, if you find the chia pudding has not set completely, give it a stir and pop back in the fridge for a further 15-30 minutes.
Recipe credit: Recipe created by Marie Duong for Persimmons Australia