Australian Persimmons… Just Poh-fect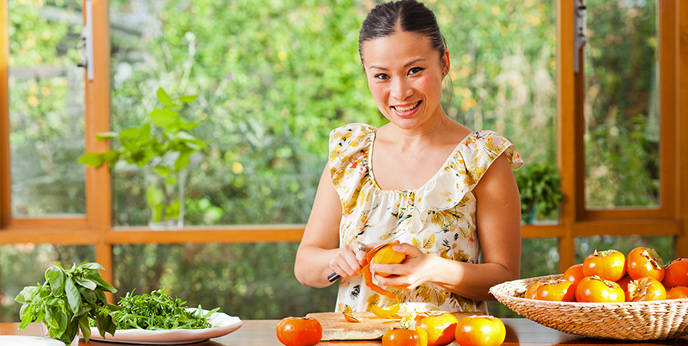 Aussies mourning the end of the summer fruit season can look forward to a bountiful supply of Australia's most exotic fruit, persimmons, available from February through to May.
The recent rains have created favourable growing conditions generating some of the best persimmon tree health seen in years. The golden orchards have now fully recovered from the drought and the growers are predicting an exceptional season full of high quality fruit.
Poh Ling Yeow, presenter of ABC TV's Poh's Kitchen, best-selling author and first runner up of the 2009 Australian Masterchef series, can't get enough of the autumnal fruit.
'Persimmons are considered a delicacy in my family and I always relish the moment when the season comes around,' Poh said. 'I grew up eating the sweet variety and only discovered original persimmons when I came to Australia from Malaysia in 1982.'
'The two persimmon varieties, sweet and original, are often confused as one but they really do differ in taste, texture and appearance. Sweet persimmons are round and stout with a slightly flattened top like a tomato and can be eaten like a crunchy apple but the original kind is a larger, more elongated, heart-shaped fruit and eaten only when it is completely ripe and the flesh is soft and jelly-like,' she said.
Poh said despite treasuring the fruit since she was a child, persimmons are still largely unknown in Australia.
'Both varieties of persimmons have such a beautiful, unique flavour that forever eludes me to describe, so people just need to be adventurous and try one,' she said.
Poh believes one of the best ways to eat the sweet variety is when they're crunchy and fresh, peeled and quartered.
'Persimmons are very versatile in the kitchen and their unassuming sweetness marries brilliantly with flavours like smoked poultry, cured meats, cheese, nuts and bitter salad leaves. They also go very well in South-east Asian style salads, as the 'sweet' element, together with hot, sour and salty,' she said.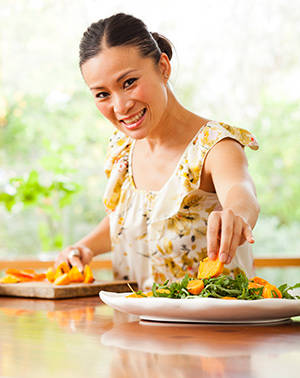 'My favourite autumn recipe involves mixing the pureed, gooey fruit from an original persimmon through muffin or cake batter for a delicious flavour combination,' she said.
The golden orange gems are a good source of vitamin C and beta carotene, fat free and high in fibre. In fact, a sweet persimmon contains almost twice the amount of dietary fibre in an everyday apple and has higher levels of many minerals and antioxidants.
Original persimmons have been cultivated in Australia for almost 150 years but the sweet variety was only introduced in the late 1970s. Whilst the market here is still young, the oriental charms have been grown for thousands of years, considered native to China, Japan, Korea, Burma and the Himalaya.
Approximately 2500 tonnes of persimmons are produced in Australia annually with Queensland the highest producers. Other key growing areas include coastal New South Wales, the Goulburn Valley in Victoria and the Murray Valley in South Australia as well as some areas of the south west corner in Western Australia.
Health data sourced from: Gorinstein, S. 2001, "Comparative Contents of Dietary Fiber, Total Phenolics, and Minerals in Persimmons and Apples", Journal of Agriculture and Food Chemistry, vol. 49, no. 2, pp. 953-955