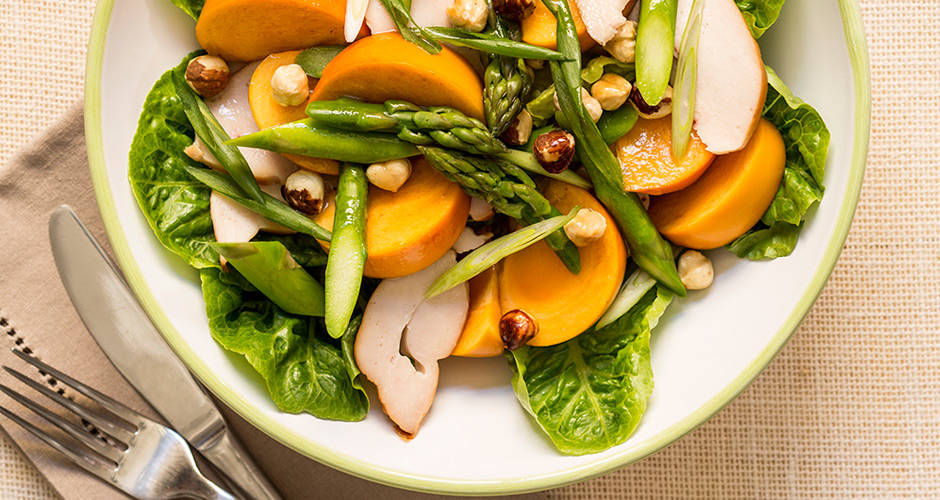 Ingredients
400g smoked chicken breasts, 3mm slices
130g baby cos lettuce
1/2 cup whole hazelnuts
3 stalks spring onions
2 bunches asparagus, ends snapped off, sliced diagonally 3cm pieces
2 sweet persimmons, peeled, sliced into wedges
Ingredients
4 Tbs olive oil
3 Tbs apple cider vinegar
1-2 tsp honey
1/2 tsp of seeded mustard
1 clove garlic, peeled and squashed under the flat side of a knife
Salt to taste
Freshly cracked black pepper
Method
To toast hazelnuts, place nuts in a small frypan and dry toast on medium heat, stirring or tossing continually for about 5-8 minutes or until the skins start to flake off and the nuts smell fragrant. Transfer immediately onto a clean tea towel and rub until the skins come off.
Place asparagus in a medium bowl. Pour freshly boiled water over the spears and cover for 30 seconds. Set aside.
To assemble salad, lay a bed of cos lettuce on the bottom of your plate then layer the remaining ingredients.
To make dressing, combine all dressing ingredients in a clean glass jar, shake, pour over salad.