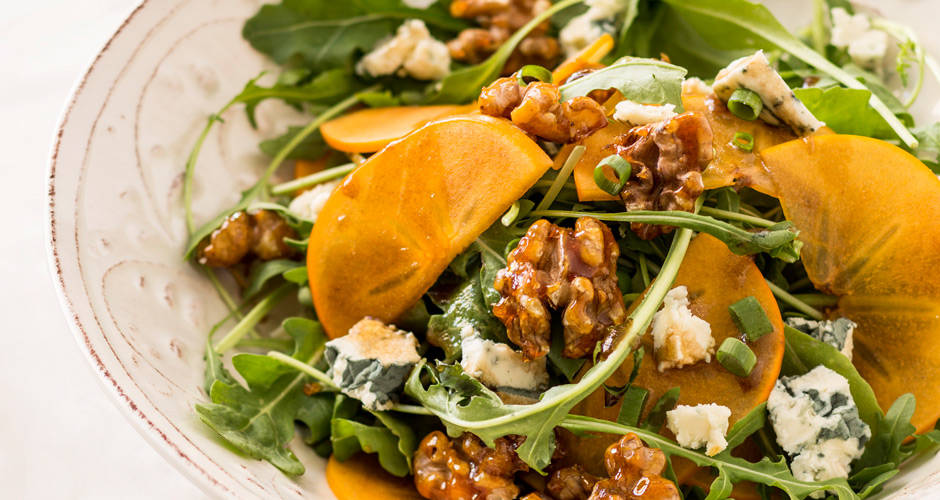 Ingredients
125g walnut pieces
1/4 cup caster sugar
1 Tbs water
100g rocket
150g blue cheese or another soft cheese such as brie or camembert
3-4 spring onions (stalks), chopped or 1/4 of a small red onion, peeled and sliced thinly
4 sweet persimmons, halved then sliced 2-3mm
Dressing
125g walnut pieces
3 Tbs olive oil
1 Tbs good quality balsamic vinegar
1 clove garlic bashed
Salt to taste
Method
Spread walnuts evenly over a frypan and dry toast on a medium heat, stirring or tossing them continually for about 5 minutes or until they are nicely browned and fragrant.
Using a small saucepan combine sugar and water, stir briefly with a metal spoon then boil on a high heat. When you see the sugar begin to turn a pale golden colour, be very attentive – it will be just moments before it turns a perfect amber. Immediately toss nuts into the sugar and very quickly fold the sugar over the nuts. You must work quickly as the sugar will set very quickly. Allow nuts to cool on some baking parchment, then gently separate the pieces. Set aside.
Combine all salad ingredients in a large mixing bowl.
To make dressing, combine all dressing ingredients in a clean glass jar, shake, then pour over salad.
Salad is best served in a shallow bowl or plate.